The test pilot's mind is stuffed with mathematics and engineering concepts, but his life is suffused with adrenaline and adventure.
"One of the greatest charms of test-flying is that you can fly any aircraft!" says Group Captain Ajit Agtey (Retired), the pleasure behind his words palpable over the phone. He and my father were friends from the decades they spent in the Indian Air Force — both were fighter pilots — but also part of a smaller group of elite aviators. Various stints in Bangalore over the years, where the Indian Air Force's (IAF) Aircraft and Systems Testing Establishment (ASTE) is situated, had let me grow up around this fascinating community of pilots. Test pilots fly various aircrafts over their careers, pushing the envelope to ensure that the machine is put through its paces and ready for operational use. It is a profession that is challenging and rewarding, thrilling and risky, though test-flying has grown safer over the years with technological advancements. India was the fifth country in the world to have its own test pilot school. And with alumni such as India's only cosmonaut Wing Commander Rakesh Sharma (Retired), the passionate and highly motivated pilots who are trained here wear their accomplishments and skills lightly (which is true of most armed forces personnel). They admit that there is pressure and complexity in their roles, but they all choose to be there for the sheer passion of flying and being part of a group that only a few make it to.
What is a test pilot and how does it all start?
These are experienced aviators — a glorious blend of pilot, aeronautical engineer and scientist — who are trained to fly and evaluate experimental, newly produced or modified aircraft using certain manoeuvres called flight test techniques. They are trained to fly any aircraft and need to adapt to varied cockpit environments — from fighter jets to passenger planes, transport aircraft to microlights. Teamwork is essential, working closely with flight-test engineers to create an end product that can safely be inducted into operational use. Production test pilots test new machines that come off the assembly line. An experimental test pilot has these qualifications, but also the more nuanced skills to test prototypes and is involved in the process right from the time the first line is drawn, their inputs critical to the designing of the machine. With excellent communication skills, they need to be able to think from the perspective of not just a pilot, but also an engineer. My father compared it to getting a PhD in aeronautical engineering.
The original test pilot schools are military establishments, but many experienced military test pilots go into commercial aviation to test passenger aircraft. The oldest, the Empire Test Pilots' School, is in England, and there are a few others across the world. India was the fifth country to establish its own test pilots' school. "With the fourth-largest Air Force in the world, it's not surprising that we have our own test pilots school," says Group Captain Agtey. With a boom in the production of commercial planes, there was a need to train more test pilots and a number of private schools have emerged.
When the IAF was established in 1932, there was initially no requirement for test pilots but post-Independence when the first jet fighter type, the de Havilland Vampire, was acquired, an Aircraft Testing Unit (ATU) was set up in Kanpur. Over time, new aircraft and system-upgrades required local flight-testing capabilities. The first two test pilots from India were sent to the Empire Test Pilots' School in 1949, but the training abroad was expensive and only a few were sent over the years. As the work continued to grow, the Aircraft and Armament Testing Unit in 1972 was upgraded to the Aircraft and Systems Testing Establishment (ASTE), with the additional responsibility of training flight test crew. ASTE shifted base to Bangalore to be close to aviation, defence and space research organisations. Most new aircrafts and major aviation systems must get ASTE approval before they can be used in India.
The selection process
There is a loud chuckle on the phone when I ask Group Captain Agtey about the selection process. He explains that it is voluntary, but during the late '70s and early '80s, test-flying was a new career path, and so selected pilots like my father and he were simply "told" that they had to go do it. "Were you scared?" I ask, assuming their initial reluctance was related to the risks of the job. "Yes, we were scared," he said, "But not of what you think. We were terrified of math!" It is now an aspiration for many to become test pilots. The shorter 'production test pilots' course has candidates who are detailed from Air Headquarters, but in order to be an Experimental Test Pilot, one must volunteer. The selection process includes clearing an exam on subjects like math and aerodynamics, and skill and adaptability in flying two aircrafts that they have never flown earlier. The Commandant of ASTE, Air Vice Marshal SK Mohlah, says that everyone is aware of the rigorous course that involves an intense amount of flying as well as classes that include engineering concepts, math, and more.
"As with any job, people are hesitant where extra work is involved. So those who apply are the ones who really want to be here. We receive about 50 applications, out of which only around 12 make it to the course each year." he says. With his father also a test pilot, one of the initial few who were trained abroad, Air Vice Marshal Mohlah was deeply motivated to follow in his footsteps. "When selecting a test pilot, they're looking to see if you have the chops for the job," says Wing Commander Sharma, who, after retiring from the IAF, went on to work in Hindustan Aeronautical Limited (HAL) as chief test pilot for several years. "They assess your attitude, your temperament, how comfortable and adaptable you are in different cockpit environments, and how you perform under pressure," he elaborates.
A day in the life
"We always wished there were more than 24 hours in the day," remembers Group Captain Agtey. For those doing the ten-and-a-half-month course, the day starts with classes at 6.30 a.m., flying from 8 a.m. to 2 p.m., followed by more classes, writing reports and then additional studying when you get home. Specific manoeuvres called flying test techniques are taught. Like determining the excess power of an aircraft through a series of turns, each progression involving a tighter turn until it can be done no further. There are also other interesting skills that not even engineers are taught. Looking at an object and gauging its measurements, honing pulse-counting skills to be accurate to 1/10 th of a second, understanding how much force to apply to an object — these are all skills a test pilot needs to develop, says Group Captain Agtey. Now, having retired from flying, his grandchildren test him on the weight of different objects and marvel at the accuracy of his answers.
Projects get increasingly more complex and though one initially begins by testing new equipment on an already proven aircraft, you are trained to progress to prototype testing. There are visits to aeronautical industries, R&D organisations, Air Force bases, visit abroad to other leading flight test schools and more. "This group is supposed to be the best of the best and you want to belong here. The course work is strenuous, you are constantly on the run and challenged in so many different ways. It's wonderful!" says Wing Commander Sharma.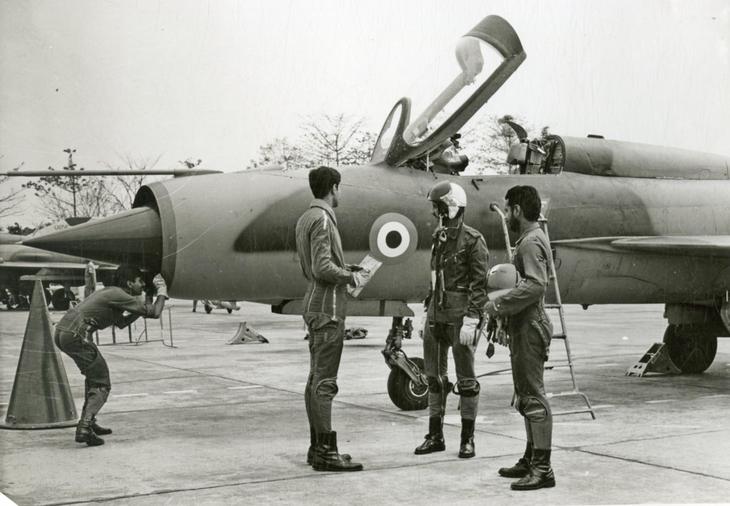 The families of the pilots play an important role in the process. The spouses get a certificate of appreciation at the end of the course for their role in managing home, family and their own work almost single-handedly. My mother, Promila Khokhar, remembers finding it hard to cope with two young children while my father was busy with the course, but as most families of armed forces personnel do, she took it in her stride and manage things admirably. An amusing and accurate description of the test pilots course is articulated by former naval test pilot Commander KP Sanjeev Kumar, in his blog, "The Experimental Flight Test Course (FTC) is arguably one of the toughest courses in all of aviation. It's the Navy SEALS of flying. If you complete the course, you become a 'tester' for life. In India, your spouse will get felicitated for putting up with a partner almost at the edge of 'delirium & death by data reduction'. Your children (& pets) will learn how to live without dad."
What about the risks?
Test-flying has always been perceived as dangerous or risky. In the 1950s, test pilots were reportedly killed at the rate of about one a week. However, as Air Vice Marshal Mohlah points out, the technological advancements, thorough preparation before each sortie, and training in simulators ensures that one is reasonably sure of the safety of the machine and equipment you are testing. Wing Commander Sharma agrees, "I don't buy that test-flying is extremely risky. It is done under tightly controlled conditions. Yes, accidents can happen, but you incrementally explore and push the envelope so that there are no surprises." Certainly, you need great instincts and top-notch flying skills, but following procedure and teamwork with your flight-test engineer, who is constantly monitoring you in the air and flagging any limits you may be approaching, is crucial. Before each flight all potential risks are mapped out with an escape route detailed for each of them to ensure one's safety to the closest degree.
And the thrill of it
"If you're not a test pilot, you probably only get to fly around three to four types of aircraft," says Air Vice Marshal Mohlah, who has flown 27 aircrafts so far. While rifling through some of my dad's papers I find a list of 60 different kinds that he flew, ranging from MiGs to Jaguars to Gnats to Sukhois, the LCA and the Rafale. Wing Commander Sharma's career as a test pilot included his selection to be India's first cosmonaut, undergoing training for the Indo-Soviet joint space venture, where he went into space aboard the SOYUZ T-11 in 1984. Over his 25 years as a test pilot he's had engines pack up, ejected from his aircraft, undergone surgery and got back into the cockpit, and so much more. "Would I live my life again the way I have so far? Absolutely yes!"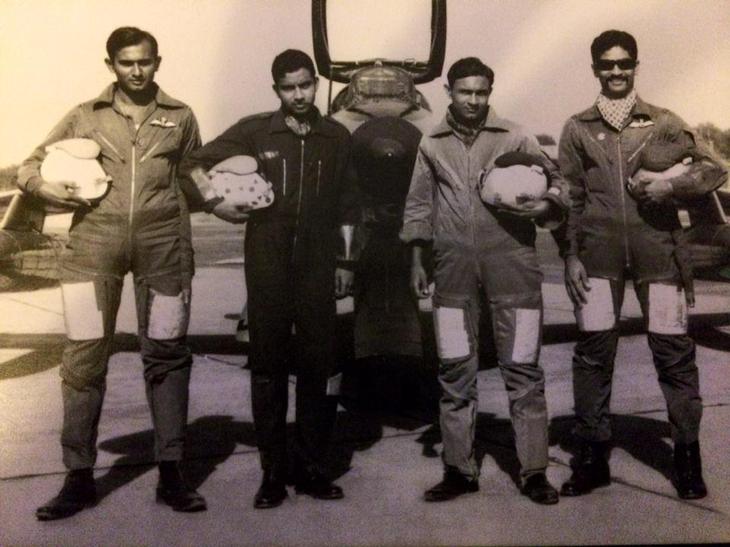 "The thrill of trying something for the first time is exciting," says Air Vice Marshal Mohlah. "Testing a new weapon or a new system, or firing a missile that has never been fired from the aircraft before." Group Captain Agtey remembers testing a new inertial navigation system on a Jaguar in the mid-'80s. His test engineer promised him a bottle of champagne if he managed to get the missile within 10 metres of the target. "What if I get it within 1 metre?" asked Group Captain Agtey. "I'll give you a whole crate!" came the reply. "The first one I dropped," he says, "chipped the target — a concrete pin. Out of the 8 bombs dropped, my average was 9.5 metres." And so, the promised crate was his.
And though it's a career that only a few can pursue, I can't help but think how test-flying has some lessons for all of us in life. The satisfaction of doing something motivated only by sheer passion. The importance of adaptability, teamwork and collaboration and being able to think from different perspectives. And the remarkable composure in dealing with pressure, which is not just specific to test pilots, but all armed forces personnel. "Having prepared well, you just go out and give it your best shot" says Wing Commander Sharma. "Stressing out can only make things worse and degrade your performance." And that's sound advice for life in general.